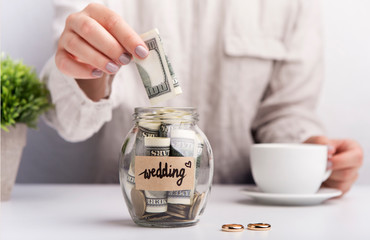 According to research by The Knot, the average cost of a wedding in the U.S. in 2021 was $34,000. However, these costs may vary depending on the state, wedding rings, and other factors. For example, according to the same study, the average cost of a wedding, excluding the engagement ring in Alabama, Florida, Missouri, and New York was $20,000, $$27,000, $24,500, and $42,000, respectively. 
Without a doubt, planning a wedding can send shivers down the spine of many couples. After all, it's your D-Day, and every cent spent is worth it. Thankfully, if you're on a tight budget, it's entirely possible to cut down expenses and reduce the overall cost of your wedding. 
This article explores wedding budgeting tips and simple ways to cut down on wedding expenses. Read on.
Choose Cheap Locations
As noted, wedding costs vary from state to state, so it makes sense to get away from big cities to save on costs. Consider hosting your wedding in your family home or a friend's garden. 
Summer weddings can be expensive, so a winter wedding can work well if you're on a budget. Also, consider holding the wedding on a weekday as the price difference for renting a location can be lower than on the weekend.
Consider A Low Budget Meal
Catering costs may take a large portion of the wedding budget. While you may want your guests to make merry and enjoy themselves to the fullest, you can still save money without sacrificing a healthy and delicious meal.
If you're willing to skip the popular plated dinner or adjust your menu, there's a lot of room to keep your food costs on track. You can rock a favorable rate by booking special offers and going for a budget-friendly diet. Disposable dinnerware and serving your guests' non-perishable snacks can save you some money.
Save Costs on Your Wedding Dress
Your wedding dress may be the most pricey attire you'll probably wear. Also, it's a once-in-a-lifetime chance, and you deserve to look your best. Knot research findings put the average wedding gown cost at $1,800. Still, costs may vary depending on preferences, and designer alterations, and extras or additions can impact the final cost.
Wearing a gown that has been passed down through generations is truly sentimental. A vintage option can save you money instead of spending money on a new dress. Also, consider buying a previously worn dress, which may cost less. A micro and simple dress can cost less than traditional dresses. 
Cut Costs On Makeups
There are no rules when it comes to makeup. Think about DIY makeup tutorials on Pinterest, wedding blogs, and YouTube. Your friends can also help you with hair and makeup. With practice and some inspiration, you'll be glad you tried it since you'll save money.
Save on Stationeries
The cost of stationary can quickly add up. To avoid these costs, try web design skills and make your place cards, menus, Thank You cards, and invitations. Send email invitations or do hand deliveries. Consider slipping Thank You cards for the guests  with the gifts, as this will save you the cost of mailing. 
Cut Costs on Decorations
For decorations, use wide plain tables, as these will save on centerpieces, tablecloths, and other accessories. Use salvage pieces and low-priced decoration items. If you have time, make decorative pieces by following DIY tutorials on Pinterest or YouTube. Consider selling the pieces at the end of the occasion and recoup your money.
Conclusion
Whether your funds are from personal savings, a wedding personal loan, or financial assistance from loved ones, you can have a low-budget wedding with the above tips. Most importantly, be strategic and maintain the overall quality of the wedding.